After learning PHP this week, I just created a Showfinder Tool which lets you search for and watch your favorite shows online. You can search for an individual show or browse different categories (HBO shows, kids shows, classic shows, etc.)
The tool currently lists shows on Hulu, Netflix and Itunes as well as a number of different network and cable channel web sites. Once you find the show you want to watch, just click on 'view' to jump directly to the site.
To access the tool, click on the following button…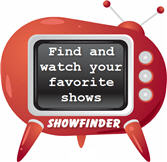 p.s. Since this is the first version of the tool, I would be very interested in any feedback you might have about it. Thanks!